Bile acid for shrimp and crab
---
Bile acid is a organic acid extracted from animal gall, which can promote fat to be emulsified, digestion and absorption, participate in the whole metabolism of fat. And can promote bile secretion, prevent fatty liver.
Bile acid
emulsifier bile acid
feed additive bile acid
feed supplement bile acid
bile acid feed grade
bile acid for shrimp
Bile acid for shrimp and crab
---
Description
RENGTY® Bile acid is the main active ingredients of bile produced from cholesterol in liver, which is one synthesis sterols material with multiple bio-activities and play an important role in fat metabolism. It can promote fat metabolism, protect liver and gall, it is a high efficient fat digestion and absorption promoter with natural biological activity. It can make up for the lack of bile acid secretion of animal, releasing the potential energy of feed, support animal health for poultry, livestock and aquaculture, enhance the feed utilization and lower the feed cost. It is extracted naturally, which is one kind of green and environmental friendly feed additives.

Specification
| | |
| --- | --- |
| Product name | Bile acid |
| Identification | HPLC |
| Bile acid content | 20%, 30%, 80%, 90%, 95% |
| Appearance | White to yellow powder |
| Odor | It should have no smelly, taste is bitter |
| Particle size | More than 90% pass through the standard sieve of 60 mesh |
| Solubiltiy | Slightly soluble in water |
| Loss on drying | ≤10% |
| Plumbum (Pb) | ≤40 mg/kg |
| Arsenic (As) | ≤10 mg/kg |
Function
1. For shrimps and other crustaceans which could not secret bile salts and cholesterol, adding bile acid could promote metamorphosis and shorten the molting time.
2. Replace part of the cholesterol, reduce feed cost.
3. Protect the health of helpatopancreas and intestine, the survival rate could be improved by 10%.
4. Enhance the anti-stress ability of shrimp and reduce the risk of some vital disease outbreak, like EMS/EHP/white feces.
Action Mechanism
Promote the digestion and absorption of fat and fat soluble substance
1. Emulsify fats and expand contact area with lipase
Bile acid have biosurfactant amphiphilic molecule structure with hydrophilic (hydroxyl, carboxyl) and hydrophobic (alkyl), have strong surface activity, which can effectively emulsifies fat into lipid droplets or chylomicron and improves the solubility of insoluble substances such as cholesterol in water.
When hydrophobic end break the large fat into small oil droplets, the hydrophilic end will wrap around small oil droplets, make fat infused into the water to finish fat hydrolyzation process. So bile acid greatly enlarge the contact area fat and lipase, convenient for fat digestion.
2. Regulate the activity of pancreatic lipase (LPS) and lipoprotein lipase (LPL) to promote the hydrolysis metabolism of fat
The spatial structure of pancreatic lipase has three cap domains covering its catalytic sites. Bile acid can change this structure and expose the active site to the substrate and play its lipodysis role, so bile acid can activate the activity of pancreatic lipase to promote the hydrolysis metabolism of fat.
The apolipoprotein contained in chylomicron emulsified by bile acid can improve the activity of lipoprotein lipase therby greatly increase the hydrolysis metabolism of fat.
3.Transport fat in the intestinal and promote fat absorption
Bile acids can combine with all decomposed products of fats in the intestinal cavity such as fatty acid, monoglyceride etc. to form a water-soluble mixed micelle.
The mixed micelle carries all fat decomposed products, large amount of fat-soluble vitamins, carotenoids and other nutrients to reach to surface of small intestinal villus and get into bloodstream, where they are absorbed.
So bile acid serve as necessary carrier for the insoluble fat hydrolysates to reach the intestinal mucosal surface and is important for the absorption of fat decomposed products.
4. Reduce the decomposition of autogenous fat
Hormone-sensitive lipase (HSL) is a rate-limiting enzyme for degradation of autogenous fat.
Bile acids can significantly reduce the activity of hormone-sensitive lipase thereby lower catabolism of autogenous fat, so it significantly reduced the catabolism of autologous fat by regulating the activity of hormone-sensitive lipase.

Protect liver and gallbladder health
1. Prevent fatty liver
Bile acid can transport fat and cholesterol, reduce the accumulation of fat in the liver, promote the compound of VLDL (very low density lipoprotein) and prevent liver diseases such as fatty liver, hepatobiliary syndrome, biliary obstruction and so on.
2. Promote bile secretion
Promote the bile secretion, unimpeded biliary and reduce the burden of liver synthesis bile acid, let the liver rest more.
3. Eliminate toxin
The liver is plagued by mycotoxins (aflatoxin, gibalenone, T-2 toxin, vomiting toxin, etc.), endotoxins (the main component is lipopolysaccharide, which is the remaining cell wall component after the killing of Gram-negative bacteria.) and heavy metals (arsenic, mercury, copper, zinc etc.) for a long time, and its own health is constantly deteriorating. Bile acid can bind and break down endotoxins, relieve the burden of liver and intestines. Help liver detoxification, provide a safe and healthy environment for liver cells, protect liver cells from the invasion of toxins such as mycotoxins, algal toxins, heavy metal ions and drug toxins so on.
4. Promote liver development
Bile acid can improve the digestion, absorption and utilization of fat and provide lipid nutrition for the development of hepatopancreas.
5. Restore liver and pancreas
Bile acid can activate insulin activity, activate thyroxine activity, effectively promote fat burning energy supply, reduce protein loss, promote liver cell repair, and enhance immune protein synthesis
6. Regulate cholesterol metabolism
Bile acid can accelerate the transfer of cholesterol in HDL (high densitylipoprotein), maintain the balance of cholesterol in animal body, and regulate cholesterol metabolism. One third of cholesterol catabolism is achieved through the synthesis of bile acid, which provides an important excretory pathway for cholesterol metabolism.
7. Antioxidant and anti-stress
Bile acid can enhance the activity of SOD (superoxide dismutase), glutathione peroxidase (GSH) and glutathione reductase (GSR), eliminate free radicals in animals' body and improve the anti-stress ability of animal, resist lipid oxidation and protect hepatopancreas.
8. Promote the growth
Bile acid can increase the level of the main substance IGF-I that regulates animal growth and the main factor GH that promotes cell protein synthesis and cell growth in animal blood, promotes animal growth.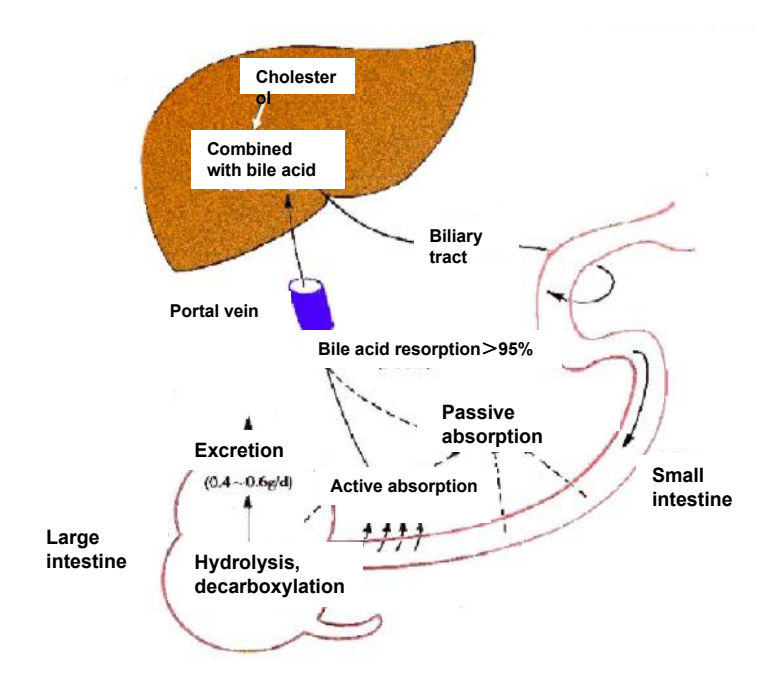 Bile acid circulation
The bile acids are emulsified into glycerol and fatty acids in the small intestine to form the fatty acid-bile salt complex, which is absorbed by the chorionic membrane of the small intestine and separated from the fatty acids, and then transported into the liver through the portal vein. After uptake by liver cells, the free bile acids are synthesized and combined bile acids are discharged into the intestine to complete a hepatointestinal circulation.
Recommended Dosage of bile acid 30%
Species

Dosage (g/t in feed mill)

Shrimp/prawn

600-800

Other crustacean

600-1000

5 g/kg directly mixed with feed in farm, mix well

Prevent vibrio enteritis in prawns, cooperated with Eucafeed, dosage is 5 g/kg bile acid+Eucafeed 2g/kg.

It is suggested that bile acids should be used in combination with emulsifier for better effect.
Application of bile acid in shrimp and crab
1. Effects of bile acid on growth performance and digestive enzyme index of prawn
| | | |
| --- | --- | --- |
| Groups | Control group | Experimental group (500 ppm bile acid 30%) |
| Initial average weight (g) | 0.32 | 0.31 |
| Final average weight (g) | 15.17a | 16.01b |
| survival rate(%) | 80.51a | 90.12b |
| FCR | 1.48b | 1.41a |
| Lipase (U/mg pr.) | 14.73 | 22.87 |
As can be seen from the above table, compared with the control group, the final weight of the experimental group increased by 5.54%; Survival rate increased by 11.94%; The feed coefficient decreased by 4.73%, and the differences were significant (p<0.05).
2. Effects of bile acid on biochemistry and non-specific immune indexes of prawn
| | | |
| --- | --- | --- |
| Groups | Control group | Experimental group (500ppm bile acid 30%) |
| ALT (U/100mL) | 2.35 | 2.52 |
| LSZ (U/mL) | 276.33a | 331.68b |
| SOD (U) | 0.24 | 0.28 |
As can be seen from the above table, compared with the control group, both alkaline phosphatase (ALT) and superoxide dismutase (SOD) showed an upward trend, but the difference was not significant (P>0.05). The lysozyme (LSZ) was increased by 20.03%, and the difference was significant (P<0.05).
3. Hepatoprotective effect of prawn
4. Hepatoprotective effect of crayfish
5. Hepatoprotective effect of Eriocheir sinensis
Packaging and storage
| | |
| --- | --- |
| Sample | 20g/bag, 200g/bag, 300g/bag, 500g/bag, 1kg/bag, 2kg/bag, 5kg/bag |
| Packaging | 20kg/25kg/bag, 25kg/drum or as requirements |
| Pallet | If 20kg/bag, 1000kg/50bag/pallet |
| Container | One 20'GP can contain 10-14 tons if bag |
| Storage | Stored 24 months sealed in a cool, dry and airy place away from light. |
Delivery and transport
Port of loading: Qingdao or any port of China as requirements
Delivery time: 10-20 days shipment after signed contract
By Express

By Air

By sea

By land

Suitable for under 50kg

Fast: 3-7 days

High cost

Door to door service

Easy to pick up the goods

Suitable for more than 50kg

Fast: 3-7 days

High cost

Port to port service

Professional broker needed

Suitable for more than 500kg

Slow: 7-45 days

Low cost

Port to port service

Profissional broker needed

Suitable for more than 500kg

When by sea can not arrive at you, you can select land transportation, by train or by motor
General speaking, EMS, TNT, DHL, UPS by express, by air and by sea is main shipping terms.
By express for quantity less than 50kg cargo, also called DDU service.
By sea for quantity over 500kg.
By air is available for above 50kg.
For high value products, please select air shipping or DHL express for safe.
If the cargo quantity is more than 500kg, but by sea can not arrive at you, please select land transportation, by train or by motor.